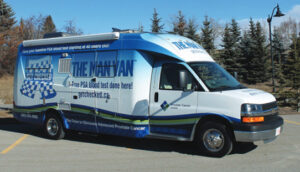 Members
I hope summer has been enjoyable for everyone and families.
The Executive is seeking help with a dynamic project that will unfold in the next 8 weeks.   Calgary Prostate Centre is bringing the ManVan to Edmonton for a permanent residency. The ManVan is a mobile lab that appears at "events" and is fully equipped to check men's PSA count. They have agreements in place with the urology clinics to ensure a second test is conducted and follow up is completed even if the man does not have a family doctor.  The ManVan will remain in YEG for the next few years and  ultimately service our Northern neighbours, rural areas and Indigenous  communities. There is no cost for the testing to the patient.
Ideally the Executive requires about 10 / 12 volunteers. They will act as Ambassadors at the events and encourage men to visit the "van".  Of those volunteers we would need  to qualify 3 or 4 drivers. Neither of these activities is a big volunteer commitment as scheduling will work to minimize all efforts.   It is expected 3 events will be held this year. You control your time contribution.
Schedule:  
Evening of Sept 19th / morning of the 20th – volunteer interviews. 
Wed Oct 4th / Thur. Oct 5th – volunteer training
Media Event Friday Oct 27th- Central Fire Hall / EPS present as well.
Saturday Oct 28 – first ManVan event – Kingsway Garden Mall
This is a glorious gift to raise awareness of PC.  Please give serious consideration to making PEPSS a significant player in the Edmonton PC scene and share your skills and knowledge. 
Please send an email to Terry to request the volunteer job descriptions and application.
Thanks
The Executive.